Welcome to the Zekkyou Gakkyuu Wiki!
We have 1,694 edits to 281 articles and 251 images on this wiki.
We also have 2 active users and 1 admins.
Please feel free to Edit the Articles and Add more Images!
This Wiki was created on December 13, 2016.
What is Zekkyou Gakkyuu?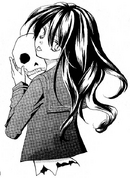 Welcome, readers, to another Screaming Lesson.
Zekkyou Gakkyuu is a Shoujo Horror Anthology series by Emi Ishikawa released in 2013, initially printed in Ribon, a preteen and older Magazine before being made into separate volume collections.
Since then it has gone to release a live action movie based around Yomi staring the members of AKB48, an anime, and a sequel manga series released in 2015.